Customers are the heart of every business and it's the reason why local Ottawa businesses succeed. Without customers our businesses would not flourish. It's important that we cater to what our customers are doing. With the advent of mobile and the advancement of mobile devices like tablets, it's even more important that we focus on how our customers are finding us.
Google is the largest discovery site in North America. It's how customers like to find your business. Whether you know it or not Google has probably cataloged your business information. This information might not be accurate and for sure, it does represent your business and your brand. Just go ahead and search your business name in Google on your desktop or mobile device.
This is what you will get: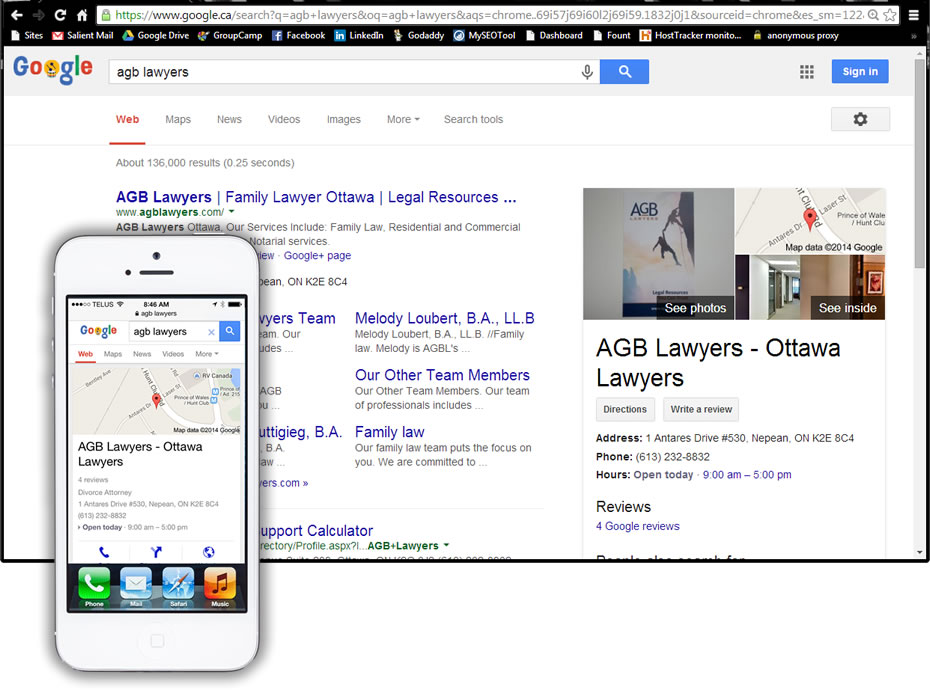 On a desktop, your profile or Google Places for Business appears on the right hand side of the page. It has you name, address and phone number (this is called NAP), plus additional information like hours of operation, reviews, photos, a map and perhaps even Street View | Trusted, to "SEE INSIDE" your places of business. On a mobile device, the Google Places for Business listing appears at the top of the search and Google makes it easy for the customer to get in contact with you, because they can just click on your phone number to give you a call.
Google also has a social profile about your business. This is called Google Plus Local. There has been some confusion because your business information had to be updated in two places… UNTIL NOW.
Google has introduced Google My Business which consolidates both Google Places for Business and Google Plus Local. Google says,
"The Internet is connecting more businesses with their people every day. However, our users tell us that finding these loyal customers can be complex and time-consuming. We believe it shouldn't be."
Now Google brings your business information together all in one place, a place that makes it possible to find out all about your business.